Medical Rehabilitation Center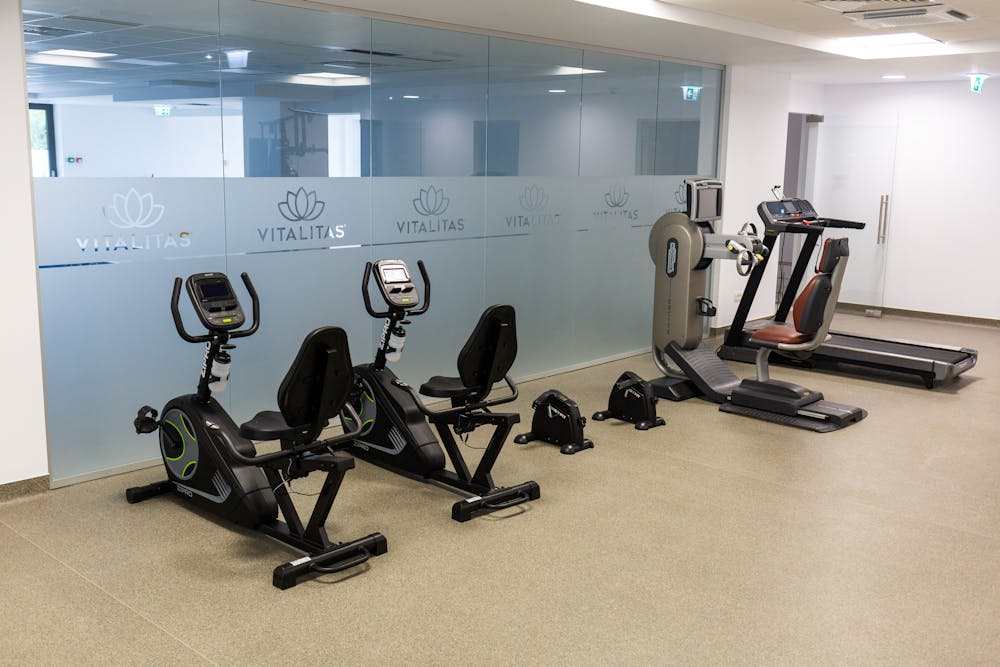 About
Our motto is "Good Living with Medical Care". We believe that a good life must be supported by exceptional medical care. So at Vitalitas, in addition to the specialized medical and dental clinics, we built a medical rehabilitation center for physical therapy, physiotherapy and a pool for aqua-therapy.
Physical therapy
The physical therapy room is equipped with the latest, high-performance equipment and our staff are over-specialized in procedures for treating both common conditions of the elders and conditions resulting from medical complications such as strokes or accidents. 
The physiotherapy room is equipped for medical gymnastics, as follows:
Backboards and elastic bands
Treadmill
Hand gym equipment with removable chairs for disabled patients
Elliptical bikes
Multi-purpose machine
Rocher Cage for pulley therapy
Parallel bar for gait retraining
Brooklyn Staircase for gait retraining
Physiotherapy
The physiotherapy center uses the most modern and up-to-date equipment which, through the experience of the medical rehabilitation doctors, offers the resident the opportunity to recover from complex conditions.
The physiotherapy center is equipped with:
TECAR (T-Care) BTL-6000 Tr-Therapy Elite machine 
Shockwave BTL-6000 SWT Topline Power machine
BTL-4920 Premium magneto-therapy machine
BTL-4825 SL Premium electrotherapy unit

Aqua-therapy pool
At Vitalitas Rehabilitation Centre, one can enjoy the use of the neuromotor rehabilitation pool, with warm water and a ramp for disabled access.
Equipments:
Aquatic treadmill  
Elliptical water bike