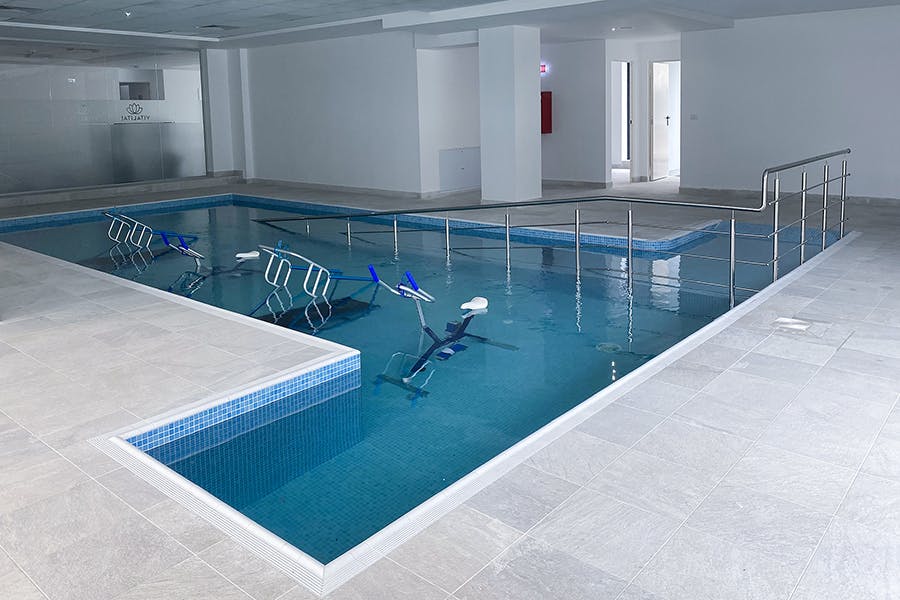 Published at 13 septembrie 2022 | Reading time: 2 min.
The role of physiotherapists and the medical rehabilitation of the elders at VITALITAS
What is the role of the physiotherapist in the relationship with the elders?
"Mens sana in corpore sano" (a healthy mind in a healthy body) is the motto of the physiotherapists' team at Vitalitas.  And the one we try to instill in seniors.
Physical therapy is medical gymnastics using specific techniques and methods having different effects, depending on the resident's needs and the final result we want to achieve.
The role of the physiotherapist is complementary to the multidisciplinary rehabilitation team. Depending on the specialist's specifications, after the initial assessment, the therapist designs a strictly individualized rehabilitation program with precise objectives, whether they relate to increasing muscle strength or joint range of motion.
In the process of care, the physiotherapist will carry out group or individual gymnastic sessions with the intention of preserving the functional abilities of the residents, will carry out physiotherapy sessions and, with the help of various devices (laser, ultrasound, Tcare) accelerates the healing process. Moreover, the therapist is the one who, together with the elder, performs gymnastics in water (aqua therapy), because movements are easier to perform, as heated water relaxes the muscles.
Physical therapy is absolutely necessary for the treatment of several pathologies, the most common being neurological disorders (Parkinson's, post-stroke hemiplegia), locomotor disorders (fractures, arthrosis), rheumatic disorders, respiratory disorders, diseases involving memory impairment (dementia, Alzheimer's). 
For the elderly, the exercises carried out during physiotherapy sessions can play a decisive role in the recovery from arthroplasties (hip replacement, knee replacement).
The advantages of physiotherapy for the elderly are as follows:
Increased range of motion and prevention of joint wear. Medical gymnastic exercises will lead to better lubrication of the cartilage by reducing friction action.
Improved activity of the circulatory system. Physical activity improves oxygenation of the brain, thus supporting cardiovascular health, which is fragile in seniors.
Recovery of mobility following immobilization. They will feel a sense of independence over their body.
Reduced stress and anxiety. 
Our main objective is to help and educate the residents at Vitalitas about the importance of exercise in regaining and maintaining independence.
Article was written by:
Mihai Epure and Alexandru Ionuț Ciobanu
Physiotherapists
Vitalitas Snagov