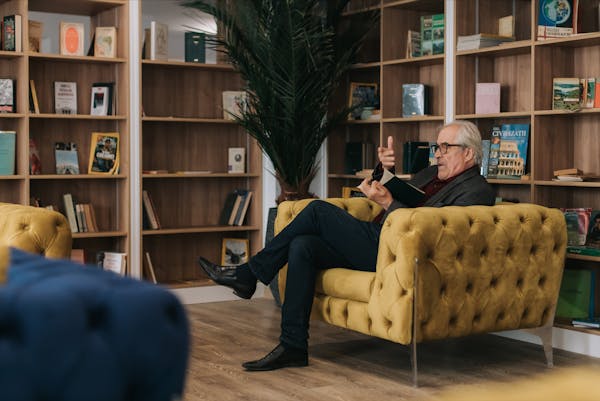 What is Vitalitas
Vitalitas is the largest elderly care center in Romania, spread over approximately five hectares of land, in the vicinity of Snagov forest. It is a premiere that a project of such scale is built from scratch in Romania, designed to become a residential center for elders.
Our motto is "Good Living with Medical Care". That's why our desire is to offer the seniors all the resources needed to achieve these two goals. On one hand, good living in a facility designed and built according to the "no step" concept, i.e. no steps in the residents' designated walking circuits, and on the other hand, the medical care that the elders so desperately need and for which, in other cases, they would often have to travel outside, to a medical clinic. 
At Vitalitas, all resources are under one roof! The three buildings are interconnected by common spaces with facilities dedicated to the residents. 
Beauty parlor
A visit to the beauty parlor is suitable for a moment of pampering, but also in functional situations. Haircutting, hairdressing, manicures, pedicures and facial treatmesnt are all at hand. So is the smile :)
Vitalitas Park
More than 20,000 square meters of land specially designed for our elders, with alleys wide enough to allow residents to pass with wheelchairs, dozens of benches placed around the artificial lake, all positioned next to Snagov forest, make Vitalitas Park one of the most beautiful places where one can live. For seniors with Alzheimer's and memory diseases, we have set up a dedicated courtyard, where they can go out whenever they want, without fear of experiencing disorienting difficulty.
Vitalitas Shop
Our store offers is a wide range of products, specially selected for our residents. From beloved crossword puzzles, magazines and books, to care products and cosmetics or specific clothing items (pyjamas, slippers, caps, socks, etc.).
Vitalitas restaurant
We desire to offer an exceptional experience to our residents at Vitalitas, this is why all the food is freshly cooked in our kitchen under the strict supervision of Chef Gabriel Camilatos.
Vitalitas Café
Vitalitas Café is a cheerful and inviting place for relaxing moments when one wants to have a good coffee or enjoy a homemade sweet. The sweets, whether cakes or pastries are prepared daily in our restaurant by our master pastry chef. And if you want to enjoy the warmth of the sun or the breeze, the terrace of the café is the perfect place!
Pharmacy
PharmaLife is part of MedLife group and is located on the ground floor of Vitalitas center. Residents will be able to purchase their medicines, including those with prescriptions, from PharmaLife pharmacy.
Multi-denominational chapel
Saline
The saline at Vitalitas is made with salt from known salt mines, which prevents, alleviates and treats various diseases of the respiratory system, bringing a lot of benefits to the body. Out residents have the opportunity to benefit of salt therapy treatments right inside the complex.
Other resources available in the complex
Multi-purpose hall, 160-seat capacity
Laboratory for collecting blood for analysis, in partnership with Synevo
Medical rehabilitation centre
Laundry room with professional equipment and labelling system for residents' clothes