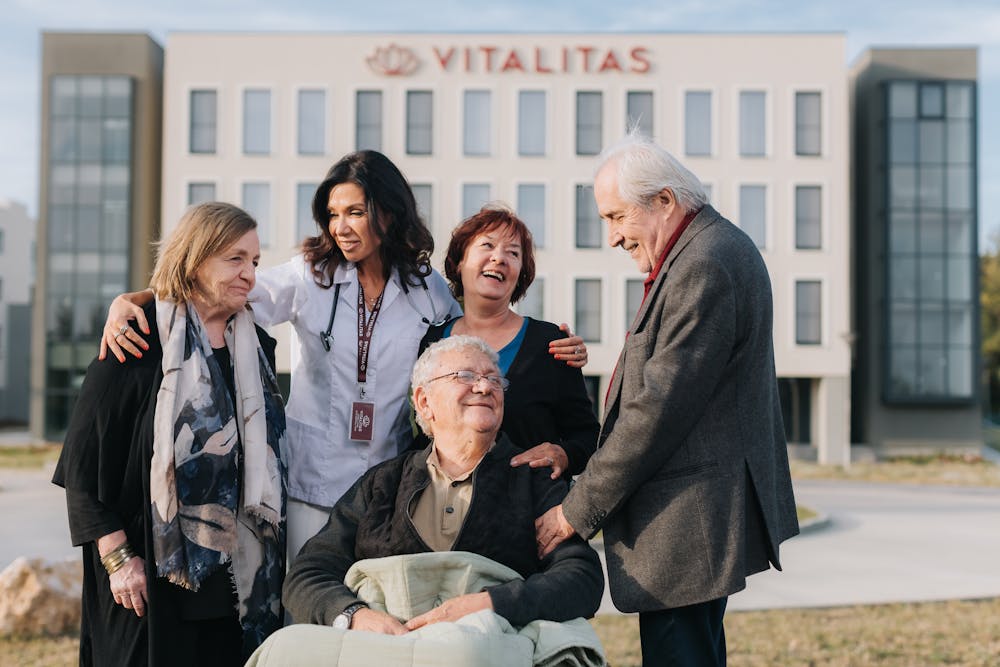 How do you imagine your life when you grow old? We believe it should be in a safe, comfortable place where you can be as independent and active as possible, in a community with whom you share common interests and passions. Having our parents and grandparents in mind, we created VITALITAS, the first senior center designed for this purpose, following the "no step" concept. The center has no steps on designated residents' walking circuits, to prevent injuries and maintain a sense of safety, confidence and freedom of movement.
The 20,000 square meter park with an artificial lake, the wellness/ rehabilitation facility with physiotherapy room, the aqua-therapy pool, the restaurant with in-house kitchen, the cafeteria, the salt room, the laundry, the hairdresser, the pharmacy, the medical and dental clinic are facilities that we make available to residents and help us in our mission to provide residents with the safety, comfort, peace of mind and medical care necessary for a life of purpose and satisfaction. 
The complex has a maximum capacity of 700 beds and features multiple functionalities. The complex's buildings are interconnected to address a wide range of needs: the center for active residents, a building dedicated to seniors with limited mobility, separate floor and courtyard dedicated to people with Alzheimer's and memory impairments
At VITALITAS you will find:
Multi-purpose hall, 160 seat capacity
Pharmacy operated by MedLife through PharmaLife
Beauty salon (hairdresser, manicure, pedicure, cosmetics)
Café and terrace
Shop with products dedicated to seniors
Saline
Multi-denominational chapel
Multidisciplinary medical clinic: cardiology, neurology, endocrinology, geriatrics, plastic surgery, orthopedics, psychology, psychiatry
Laboratory analysis collection point, in partnership with Synevo
Dentistry and dental radiology clinic
Medical rehabilitation center: 
- physiotherapy room and neuromotor rehabilitation equipment such as parallel bars, Brooklyn ladder and Rocher pulley therapy cage 
- physiotherapy equipment: Tcare, Shockwave, physiotherapy unit, magneto-therapy equipment 
- swimming pool with access ramp for persons with reduced mobility, equipped with water treadmill and water bike
Laundry equipped with professional equipment
Park with generous alleys around the artificial lake
For more information about Vitalitas' services visit the Facilities menu.